Diploma Programme
Principles and Framework
The Diploma Program (DP) is a two year programme for students aged 16 to 19 and is designed to not only prepare students for study at leading universities around the world but to also develop students who are critical and compassionate thinkers, lifelong learners, and responsible global citizens. The program is designed for highly motivated students willing to take on the challenge of a rigorous academic, global-minded program, which does not confine studies to the textbook, but extends it to practical applications.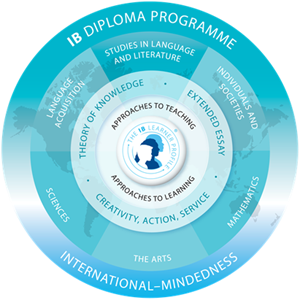 Diploma Programme Values
The Diploma Programme prepares students to be effective shapers of our multicultural, multilingual world through an emphasis on …
developing global-minded young people who understand the world they live in, care about it, and act to make it a better place;
studying a range of subjects in depth;
learning through inquiry based and experiential learning activities;
achieving high academic levels of performance.
The Diploma Programme Framework
Over the course of two years DP students…
study six subjects chosen from the six subject groups;
study at least three high level subjects;
study at least two languages;
regularly reflect on different approaches to learning;
regularly reflect on the attributes of global citizens, outlined in the Learner Profile;
complete three unique, compulsory components of the curriculum called the Diploma Programme Core.
To learn more about the Diploma Programme,
click on http://www.ibo.org/diploma/