The IB Middle Years Programme
Assessment
The Bilingual Course uses the MYP assessment framework established by the IBO when evaluating assessments and assigning grades. At the end of each year, teachers award a grade called the MYP grade on a scale of 1-7 (7 being the highest).
Since the Bilingual Course follows the guidelines from the Mombukagakusho (MEXT) and the assessment policy of the Gyoshu Junior High School, students also receive a Gyoshu grade. Gyoshu grades are awarded on a scale of 1 – 10 (with 10 being the highest). The Gyoshu grade for students in the Bilingual Course comes from the application of the MYP criteria and the effort grade.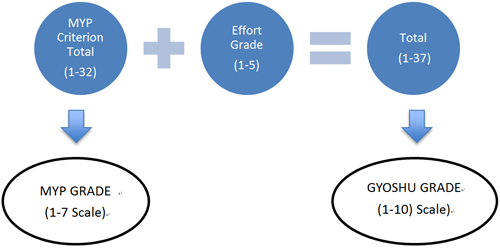 Written reports of student progress are sent to parents in July, December and March. Parent-student-teacher conferences are scheduled in mid- July and mid-December. Written reports include: student's performance level for every criteria in each subject, MYP subject grade, effort grade, Gyoshu grade, subject teacher's comments, school-wide examinations, reading grade and other tests such as the Kanji test and English vocabulary test. The written reports are presented and explained by the homeroom teacher during the parent-student-teacher conferences.
The principles of assessment at Gyoshu High School are as follows:
Assessment is a continuous part of the planning, teaching and learning process.
Assessments produce meaningful evidence of student learning that is reported and clearly understood by students, parents, teachers, administrators, and the community.
Assessment gathers information from a variety of sources using a range of methods, formative and summative, according to the needs of the subject.
Assessment feedback is timely, specific, and frequent.
Assessments are developed to consider the multiple intelligences, learning styles and differences, and cultures of students.
Assessment measures students' abilities to construct knowledge through authentic, real-world tasks both independently and collaboratively.
Assessments include tasks that focus on producing quality performances and outcomes and require students to explore multiple points of view.
Student self-assessment and peer evaluation are essential parts of the learning process.
Assessment allows for reflection and the opportunity to receive feedback for improvement and future learning.
To see samples of students' work,
go to (gallery)
To learn more about MYP assessment, go to
http://www.ibo.org/myp/assessment/index.cfm