The IB Middle Years Programme
Service as Action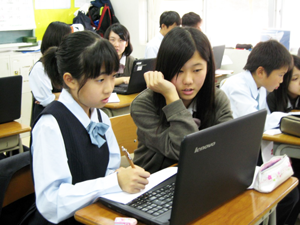 The concept of Action (learning by doing and experiencing) is a fundamental part of the MYP programme. Service is a part of action and it is an expectation at Gyoshu Junior and Senior High School that all students will be involved in some form of service in each year of the programme. Meaningful service involves the following elements:
An understanding of the issue
Interaction with individuals or groups in the community
Identifying the needs of the community where service is taking place.

Students must take part in a range of activities- in the school community, local community, national community, and in the international community, and they must fulfill the requirements of the school's community and service program. Some of the in-school activities that students could be involved with are:


Cultural Festival and Sports Day
IB Exhibit
Committee Duties
Peer Tutoring
Bazaar
Sembon Beach Cleaning (JH)
Fuji Cleaning
School Committee Duties
Iowa Information Session
Contributing to student committees and organizations
Assisting other students through tutoring
Managing school sports teams

Some of the out-of-school activities that students could be involved with are:


Supporting and developing links between the school and international organizations such as Free the Children and PAWS (People Helping Animals)
Volunteer work in a nursery or an elementary school 
Organizing activities for younger students in the elementary school
Making regular visits and providing services to senior citizens living alone
Supporting and developing links with local groups such as senior citizens' centers
Students work with their homeroom teachers and the Service as Action coordinator from pre-planning stage to reflection stage.
To learn more about the MYP Service as Action at Gyoshu High School, click on the (booklet)
» read more